Established in 1979 by owners Bob and Cathee Alex, the farm is located in the beautiful Litchfield Hills of Connecticut on 27 acres of secluded field, forest, and ponds. We are organically managed with special attention to soil biology and nutrition.

Come join the harvest!

We're hiring our summer 2017 crew!


Register staff, berry harvesters, and field hands
Hours can be flexible, up to 40 hours/week
Contact:

thefarmer

@

evergreenberryfarm.com

for more
information and an application.


---
Berry Seasons
Blueberries - July to August
Black Raspberries - Early-Mid July
Red Raspberries - July and Early September
Blackberry - Late August thru Early September

---
Hours
During Peak Season: 8am – 8pm Everyday
During Late Season: 8am - Noon Tuesday, Thursday and Saturday

Call ahead or check out our Facebook Page for updated picking conditions
860-274-0825
---
Prices for 2016 Season
Blueberries
P-Y-O Over 9 pounds: $3.59 per lb (approx. $3.14/pt)
P-Y-O Under 9 pounds $3.99 per lb(approx. $3.49/pt)
Pre-picked: No more pre-picked for the 2016 season.
Black/Red Raspberries and Blackberries
P-Y-O Over 9 pounds: $8.99 per lb (approx. $6.75/pt or $3.38 half pt)
P-Y-O Under 9 pounds $9.99 per lb (approx. $7.50/pt or $3.75 half pt)
Currently Accepting: Cash, Check, Credit/EMV, Debit, Apple Pay, and Google Wallet
---
Children are welcome, but please no pets
Containers are provided or bring your own
Follow signs on Route 63 to Bassett Road

---
What We Grow
---

Blueberries: July to August (to mid September with a cool summer)

Black Raspberries: Early to Mid July

Summer Red Raspberries: Early to Mid July

Blackberries: Late August to early September
Our Blueberry Varities
---
Ripening
Varieties
Size
Flavor
Early Season: Early July
Bluetta
medium
sweet
Spartan
large
sweet
Patriot
large
tart
Northland
small-medium
sweet
Early-Mid Season: Mid-Late July
Bluecrop
large
sweet
Blueray
large
sweet
Mid Season: Early August
Burlington
medium
sweet
Colville
large
sweet
Mid-Late Season: Mid August
Jersey
medium
sweet
Brigetta
large
sweet
Late Season: August-Early Sept
Elliot
large
tart
---
Seasons
---
What makes for a deliciously sweet berry?
A year long labor of love from the farmer!
---
Here is a behind the scenes look at a year in the life of the farmer whose labor brings to you that wonderful summer harvest: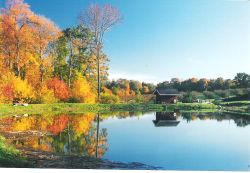 Fall:
The field is beautiful with deep red foliage on the bushes contrasting the green grass. Blueberry bushes set buds in the fall for next summer's crop. Fertilizing with compost and watering are critical to a good bud set. Also, mowing the grass (fifteen acres of it!) and spreading mulch for weed control keeps the farmer busy. There is six miles of row to manage for irrigation and mulching. Once falls draws to a close the irrigation system is drained for the winter.
Winter:
When the bushes are dormant (dropped all their leaves) pruning is done to remove the old canes and to promote new growth. New cane growth means new blueberries! There are almost seven thousand bushes to attend to. The farmer typically prunes about a third of the field each winter.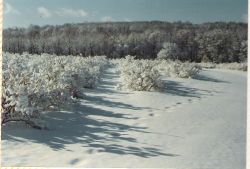 Raspberries are also pruned to remove the old canes. Old canes have a silvery peeling bark while the new canes have a smooth red appearance. Like blueberries, the fruit is produced on the new canes, not the old.
When there is inclement weather the farmer can be found in the barn where there is plenty of equipment maintenance and repairs to be done after a season of hard work.
Farmer Bob is also a falconer. Fall and winter is spent not only tending to the fields but also training his Gyr/Saker hybrid falcon to fly to a lure. The Gyr/Saker falcon is an agile falcon that preys on smaller berry eating birds. Falcons make great security guards for the berry patch during the summer harvest. Just their presence keeps berry eating birds out of the field.
Spring: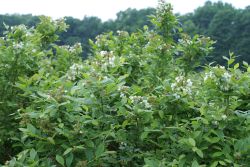 This is a very labor intensive season as plant and soil health is assessed and treated. Fertilizing to invigorate both the soil and plants is accomplished with a medley of natural cold pressed fish hydrolysate, compost tea, kelp, molasses, select minerals, and more applied both directly on the ground and as a foliar spray. The berries require an inch of water a week, so depending on the rain irrigation may be required. The system is turned on and checked for leaks. Weed control is accomplished by hand and continued mulching. New plants are put in. The grass is growing again too so many hours are put in on the mower. Raspberries are trellised and tied for easy harvesting and easy mowing in between the rows.
Summer: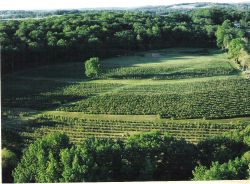 This is a very busy time of year resulting in typically fourteen hour days for the farmer. Supplies ordered in the spring arrive for the harvest season, the marketing barn is opened and cleaned, rows are marked for best picking, and post cards are mailed to let you know a new season has begun! We are open every day for twelve hours from 8 am to 8 pm July and August, but the farmer is up with the sun and quit with the sun. Plastic owls, "scare eyes", flash tape, "Zelda" the mannequin scarecrow, and the mechanical bird distress call are all set out in the field for bird control. Sticky traps are used to monitor for insect pests. Soil conductivity and berry refraction data is collected to monitor the nutritional status of both the soil and the berries. Weedwacking, mowing (again!), irrigating, and a myriad of other small details that any business owner faces occupy the rest of the day along with organizing summer field hands. On Sundays our staff is off and Farmer Bob can be found manning the marketing barn where you can grill him on the latest blueberry growing techniques and the state of the crop. You'll hear smooth jazz, his favorite, playing on the radio!
Enjoy the berries! We enjoy having you visit each summer. And remember:
Are you well fed? Thank God, and then Thank the Farmer!
---
Our History
---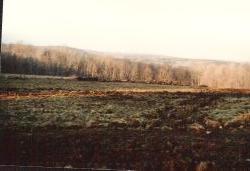 Evergreen Berry Farm was established July 13th, 1979 by current owners Bob and Cathee Alex. Originally part of Watertown's Hiram French Farm dating back to the 1800's, the 27 acre parcel was purchased as an abandoned corn field, woodlot, and wetland that had been left untended for nearly a decade.
The inspirations for growing blueberries came from Bob's fond memories of childhood outings picking blueberries with his mom, as well as an idyllic excursion in an old model A Ford through Great Mountain Forrest of Norfolk to a secluded patch owned by his mentor Mr. Edward C Childs. Mr. Child's confidence in a young man's dream to build a berry patch for future generations of families to visit would be the catalyst for the birth of Evergreen Berry Farm in a time when farms were, and still are, fast disappearing.
The first summer of ownership was spent removing a thousand feet of treed hedge row along a stone wall that had cut the field into two sections. Now an open twelve acre field was ready for soil conditioning. Blueberries like acidic soil, so the limey pH needed for corn crops had to be reversed to an acidic pH with the application of sulfur. (Homeowners can do this for their blueberry bushes with Hollytone or similar). The field was also plowed and harrowed in preparation for a cover crop of red fescue grass that would eventually lie between the rows of blueberries, making it easy for visitors to stroll along in search of the sweetest berries!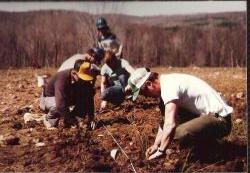 The following spring, two weeks before Bob and Cathee's wedding in May of 1980, seven thousand two-year-old blueberry whips arrived and were placed in nursery beds. Over the next three springs the bushes were individually laid out in neatly contoured rows with meticulous thought to spacing for optimum growth, farmer, and visitor access. Each bush was planted in a carefully prepared two foot diameter augured hole mulched and watered. Also during this time the flower buds were removed by hand to prevent berry production and force the plants energy into strong root growth which would ultimately create higher yields.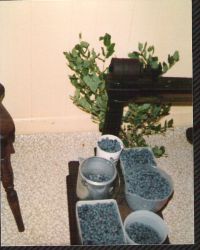 In the summer of 1982 we harvested our first crop. The yield from all seven thousand bushes fit on one old cast iron counter balance scale! (The scale was a generous gift from Ed and Frank Gustafson of the neighboring Gustafson apple orchard.) Evergreen Berry Farm first opened to the public in 1983 and was picked out in four days! In 1984 we lasted six days, and in 1985 sixteen days. Finally in 1986, we had our first full summer of daily harvesting from early July to Labor Day. We continue to be open daily 8 am to 8 pm through the summer. In 1986 we added small patches of red, black, and gold raspberry, blackberry in 1996, and elderberry in 1999. A harvest season that once fit on a single scale grew to hundreds and then to tens of thousands of pounds as the farm matured.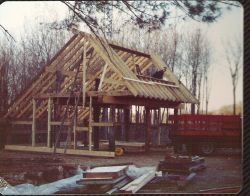 In the midst of planting the construction of an equipment barn was accomplished 1981 that required a special permit to be built before our home. There was no power at the barn and berries were weighed in on that old cast iron counter balance scale much to the amusement of our visitors. The scale still sits proudly in the barn today as a constant reminder of our beginning. It wasn't until 1986 when our home was under construction that power arrived to the barn and more efficient scales were used.
During construction of our home, and true to the old adage "new house, new baby(s)" our family grew with three children in three years with the arrival of Julie (March 1985), Caitlin (September 1986), and James (February 1988). They have grown up to be fine young adults exploring careers in teaching and medical sciences, as well as starting their own families. They grew up helping to run the farm, understand the value of hard work, and appreciate the natural beauty of our little corner of Watertown in the Litchfield hills and the world.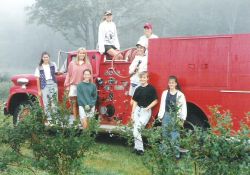 To avoid the effects of drought and maintain a consistent crop of berries, our first pond was dug in 1992. Of course as nature and luck would have it a drought occurred in 1993 before the irrigation lines were installed. Using Yankee ingenuity Bob put to work an old 1961 pumper fire truck. Bridgewater's retired Engine No3 brought water to each bush, a major time consuming but necessary task. By 1995 the irrigation lines were completed and the berries now enjoy the inch of water a week they need during the growing season whether Mother Nature provides it or not!
1997 brought a bigger equipment barn on the scene up near our home and paved the way for the original shed to be renovated in 2000 for "just berries"! A large commercial cooler and telephone arrived. The sorting machine was positioned behind a new counter so visitors could observe the sorting and packing process of hand harvested blueberries. Our pre-picked blueberries are harvested daily, sorted, packed, and sold within twenty-four hours insuring the freshest sweetest berries to our buyers. Fresh blueberries will stay nice in the refrigerator for up to two weeks and freeze for two years, although they are usually eaten well before either date arrives! The base of our antique wagon was rescued from behind an abandoned shed at the Gunnery ponds in Washington Depot and refurbished to its original glory when the top was found on the Rockefeller estate in New York. The wagon now holds our picking pails; is the first stop for visitors; and has become a favorite photo spot.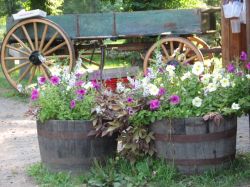 In 2001 a second pond at the farm's entrance was added. Bob created a gravity feed siphon to allow for the natural flow of water from the new upper pond to the original lower pond doubling our water supply for the berries. Drainage has been added most recently to the field in the wettest areas to improve the health of the bushes' root systems.
After extensive soils research during the fall of 2012 and into the winter of 2013 Farmer Bob made a determined decision for forego all conventional farming practices that promote the use of chemical fertilizers, herbicides and pesticides, to instead wholly incorporate only organic biological soil, pest, and weed management techniques. The intent of biological farming is to re-nourish the soil with 'whole foods' instead of chemical fertilizers. Additions of kelp, molasses, aged manure, minerals, humates, and other micronutrients to the soil along with foliar sprays of compost tea and fish hydrolysate serve to rejuvenate the soil and the plants ability to take up nutrition via a healthier root system. This in turn increases the overall vigor of the plants as well as enhancing the nutritive value of our crops that your bodies enjoy! This initiative to convert to biological farming came as a result of Farmer Bob's disappointing observations of lackluster plant growth and renewal season after season despite a blend of conventional and organic practices. Each new season should see a robust recovery of the berry field as soil nutrition is replenished with the appropriate micronutrients!
In addition, more severe weather patterns and aging crops in recent years have added to the challenges we face as a farm. Currently we are working hard at addressing these challenges through a comprehensive approach which entails: replanting, cover-cropping, additional drainage, and continuing to learn and employ new ways to increase and sustain the biological health and diversity of the farm as a whole.
Building Evergreen Berry Farm has been and is an evolving labor of love accomplished by countless hours of toil by both family and friends. Our parents and children have helped to make this a multi-generational achievement. Until she retired in 2013 you could find Bob's mom Ruth on most mornings at the barn during the harvest season or find her tying raspberries in the spring or on the mower in the fall. When Cathee's mom, a master gardener, is around on the weekends, she will make sure there are fresh flowers at the counter coupled with a friendly smile and conversation on the best berry recipes. Siblings, aunts, uncles, nieces, nephews, and neighbors have all had a hand in the success of our farm.
And of course you, our visitors, who berry by berry, make the harvest possible each year must be thanked for your continued patronage. We look forward to welcoming all ages to our farm for generations to come. We hope that you all have a great time making treasured family memories in the berry patches of Evergreen Berry Farm.
The Alex Family
---
Our Most Requested Recipes
---
No Bake Blueberry Pie
8 or 9 inch baked pie shell
4 cups Blueberries
1 cup water
3 Tbs cornstarch
1 cup sugar
1 tsp lemon juice
Line a cooled 8 or 9 inch pie shell with 3 cups of fresh blueberries. Simmer 1 cup of mashed berries with 1 cup water for about 4 minutes. Combine cornstarch and sugar. Add to cooked fruit and stir constantly until thick and clear. Add lemon juice and cool slightly. Pour over berries in pie shell. Chill and serve!

---
Berried Treasures (Muffins)
2 cups flour
1/2 tsp salt
2 tsp baking powder
1 cup sugar
1/2 cup butter
2 eggs
1 tsp vanilla
1/2 cup milk
1 to 2 cups of blueberries
Preheat oven to 375. Grease and flower a 12 cup muffin pan or use liners. In a medium bowl combine dry ingredients. With pastry blender cut in butter until crumbly. In another bowl mix milk, eggs, and vanilla. Add to dry ingredients all at once stirring until just moistened . Do not over mix. Fold in berries and spoon into muffin pan. Bake at 375 for 30 minutes or until toothpick comes out clean. Makes 12 muffins.
---
Chicken Pasta Salad with Blueberries
1 (9oz) package thawed or 1 lb fresh prepared green beans
3 cups shredded cooked chicken breasts (about 1 lbs skinned and boned)
3 cups cooked fusilli (1 lb spiral pasta)
1 cup (1/2 pint) fresh blueberries
1 cup thinly sliced celery
1/4 cup thinly sliced green onions (chives or scallions)
2 tsp fresh oregano
1/2 cup plain low fat yogurt
1/4 cup and 1 Tbs mayonnaise
3 Tbs vinegar
1 teaspoon each salt and pepper
Press thawed green beans in paper towel to dry. Combine with chicken, pasta, blueberry, celery, onion, oregano in large bowl. Combine yogurt, mayo, salt, pepper, and vinegar in separate bowl and stir well. Pour over chicken mixture and toss gently. Chill and serve over lettuce. Serves 6
---
For a wide variety of recipe ideas visit:
http://allrecipes.com/recipes/fruits-and-vegetables/fruits/berries/blueberries/
---
Stewardship
---
We currently manage Evergreen Berry Farm biologically, an organic science that prioritizes soil nutrition to invigorate the plants. Healthy plants build strong immune systems that are better able to fend off insects and diseases. Healthy plants also produce highly productive and nutritious berries for your consumption. Biological farming practices on our farm include:
Annual soil tests to monitor soil chemistry, nutrient content, and biological activity.
Mulching of the plant rows with wood chips and composted horse manure to help control weed growth and improve soil organic matter.
Weed control without herbicides via hand weeding and the use of a weedwacker.
Foliar spray applications of cold pressed fish hydrosylate and liquid kelp to provide amino acids and trace micro-nutrients to the plants.
Drip irrigation to conserve water and energy use, while maintaining adequate water supply to the plants to produce their juicy berries.
Minimizing erosion and protecting soil quality by maintaining five-foot wide strips of grass between each contoured row of berries. Additionally, water diversions, which look like grassy swales between the berry rows, help divert excess rain water off the sloping land, further protecting the land from erosion.
Flash tape, scare eyes, a bird distress call audio machine, and the presence of Farmer Bob's hunting falcon to reduce bird damage to the crops.
Monitoring insect pests with sticky traps as well as red cups hanging on the blueberry bushes (please be mindful as not to disturb these traps). Limited use of OMRI rated organic pesticides to control Spotted Wing Drosophila (which tends to affect late season Elliot blueberries and the blackberries) and Blueberry Maggot (both are flies capable of laying eggs in the berries that produce worms, ugh!). We also encourage the activity of our local bats who are great insect eaters! A bat house has been installed on the equipment barn to boost their presence.
Incorporating field borders with nectar producing plant materials, riparian forest and herbaceous buffers to encourage healthier native plant populations, add protection for the aquatic habitat, as well as improve the populations of native pollinators (bumblebees!) and other beneficial insects.
A small, intermittent stream flows from the farm into the nearby Wigwam Reservoir. The environmental care that goes into all the farming practices here at Evergreen Berry Farm helps to protect the drinking water quality of the reservoir and the aquatic habitat in the Central Housatonic Watershed. We have been recognized by the USDA's Natural Resources Conservation Service's Conservation Security Program (CSP) as a model farm.
Our farm recycles all used motor oil for tractors as well as lubricating oil for other farm equipment.
---
Starting Address:
Map:
Directions:
Evergreen Berry Farm
, LLC.
435 Bassett Road
Watertown, CT 06795
860.274.0825



thefarmer@evergreenberryfarm.com
We hire an enthusiastic, conscientious, and hard-working team for our berry season. Please email us for more details about our current openings and an application.
Currently hiring: our summer 2017 crew, including register staff, berry harvesters, and field hands.